Payday Loans
Get instant payday loans for bad credit with no credit check and no hassles.
How Much Do You Need?
Won't impact your credit score!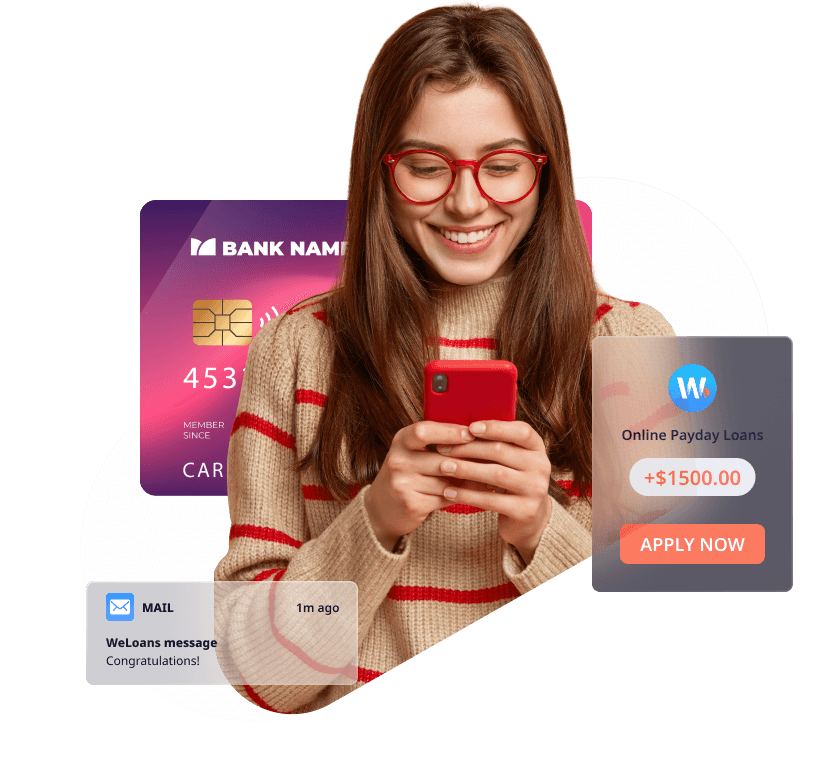 How Do

Payday Loans Work in Australia?

Well-suited to help those needing cash in between pay cheques, payday loans (or payday advances) provide quick access to money, often with short-term repayment structures. And they often have less stringent requirements than traditional lenders.

Payday lenders can accept borrowers with a bad credit score or history, who are unemployed or receiving Centrelink benefits. Eligible applicants will receive typically small amounts of cash determined by the lender and are expected to repay the loan on their next payday or at a time agreed to by the lender.
Is It

Possible to Find a No Credit Check Payday Loan?

Yes, no credit checks are possible for payday loans. Payday lenders often don't require the hard credit checks required by other types of lending. They will mostly perform a soft check to get a general understanding about your credit history. And it won't negatively impact your credit score.
Can I

Get a Payday Loan If I Have Bad Credit?

Yes. Many Australian payday lenders provide loans for bad credit to help people with low credit scores keep their finances stable. This loan option is helpful especially if you're having trouble applying for a loan with a traditional lender because of your bad credit history.
How Can

WeLoans Help Me Get a Payday Loan?

Applying for loans can be daunting, but it shouldn't be. Here at WeLoans, we ensure every customer has quick access to the payday loan they need, even with bad credit.

Easy online application - By going through a straightforward and simple process that takes only a few minutes, you'll be able to receive the right loan offers for your urgent financial needs.

Trustworthy Australian lenders - Our handpicked network of verified lenders work hard to offer you safe loans at sensible rates. And you'll never find any hidden charges in your contract with them.

Fast approval and quick transfer - Our instant payday loan services are backed by a fast approvals process, so you get your application results quickly. Our lenders will help deliver the cash into your account without delay.

Free-of-charge services - It's completely free to apply for our payday loans in Australia and you can receive your personalised loan offers from trusted lenders without entering your credit or debit card details.
What are

Your Lenders' Requirements for Payday Loans?

Our payday loan lenders are happy to work with applicants with nearly all kinds of financial backgrounds. No matter what credit score you have, you will still have the chance to be approved for our payday loans.

Specific requirements may vary slightly across our lenders, but in general you'll need to meet the following criteria:
You must be 18 or older.

You must be an Australian citizen or permanent resident.

You must have a valid savings or cheque account.

You must be in employment or have a stable source of income.

You must have a working phone number or email address.
How to

Apply for Payday Loans on WeLoans?

Our application process is crafted for convenience, and it's already helped plenty of satisfied customers access payday loans in Australia.
Start your application

This process is short and sweet: just tell us some basic info about you and the loan you want to take out. This step helps us find tailored offers that best suit you.

Choose your loan offer

Once you're approved by our partner lenders, they will send you personalised loan offers. These are no-obligation offers and you can take your time to pick the one you like.

Receive your money

Sign the loan agreement with the lender, and the money will be quickly delivered into your bank account. Now it's time to get back to the things that really matter.
How Much

Can I Get with a Payday Loan on WeLoans?

Our bad credit payday loans in Australia are generally smaller cash loans to tide you over until the next payday. Depending on which of our trusted lenders you choose, you can access easy payday loans of up to $2,000, at affordable loan charges.
FAQs
1. Are payday loans legal in Australia?

Yes, Payday loans are 100% legal in Australia. All payday lenders are licensed and regulated by ASIC (Australian Securities and Investments Commission) to ensure that they lend responsibly.

2. Are credit checks necessary for payday loans in Australia?

Hard credit checks are not necessary to get a payday loan in Australia. But some lenders may perform a soft check on your credit report, which won't lower your credit score. A soft credit check will generally see lenders check your credit report and credit score.

3. What can a no credit check payday loan be used for?

These types of quick loans can be used for anything, whether it be an emergency expense, such as medical bills, car or home repairs, or simply to cover your everyday needs like groceries and rent.

4. How much does a bad credit payday loan cost?

The costs of payday loans can vary depending on the terms and conditions set by different loan companies. In Australia, payday lenders are not allowed to charge interest but only fixed fees, with the caps at 20% of the amount borrowed on establishment fees, 4% on monthly fees, and 200% on default fees.

5. Is it safe to borrow payday loans on WeLoans?

Yes. Your safety is our priority. Our secure application process and network of verified and trusted lenders are focussed on providing you with the safest possible payday loans in Australia.

6. How do I repay the payday loans from your lenders?

After accepting and signing your payday loan contract, payments will be withdrawn from your bank account automatically. Frequency and payment terms will depend on your agreement with the lender.

7. What should I consider before applying for a payday loan?

It's suggested that you carefully consider if a payday loan is the best option for you – does its rates, duration and repayment structure suit your requirements? Also you should ask yourself if you can responsibly repay your payday loan: will you be able to make the payments on time?

8. Can payday loans help improve my credit?

Yes. By taking out a payday loan and making regular payments on time, you can demonstrate that you are capable of managing debt responsibly and thus increase your credit score and chances of obtaining more favourable loan terms in the future.
Get Trusted Payday Loans to Cover Any Expense
Sometimes you just can't wait until the next payday. WeLoans are here to help you find no credit check payday loans even for bad credit. Apply for one and get the help you need today!
APPLY NOW